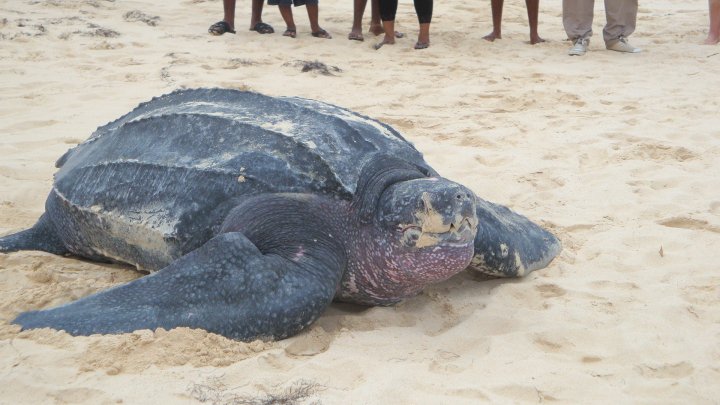 Leatherback Turtle

The leatherback turtle (Dermochelys coriacea) is the largest of all living sea turtles and the fourth largest modern reptile behind three crocodilians. It is the only living species in the genus Dermochelys. It can easily be differentiated from other modern sea turtles by its lack of a bony shell. Instead, its carapace is covered by skin and oily flesh. Dermochelys coriacea is the only extant member of the family Dermochelyidae.
Leatherback turtles have the most hydrodynamic body design of any other sea turtle, with a large, teardrop shaped body. A large pair of front flippers power the turtles through the water. Like other sea turtles, the leatherback's flattened forelimbs are adapted for swimming in the open ocean. Claws are absent from both pairs of flippers. The Leatherback's flippers are the largest in proportion to its body among extant sea turtles. Leatherback's front flippers can grow up to 2.7 meters (9 ft) in large specimens, the largest flippers (even in comparison to its body) of any sea turtle.
The leatherback has several characteristics that distinguish it from other sea turtles. Its most notable feature is the lack of a bony carapace. Instead of scutes, thick, leathery skin with embedded minuscule osteoderms. Seven distinct ridges rise from the carapace, crossing from the anterior to posterior margin of the turtle's back. Leatherbacks are unique among reptiles in that their scales lack β-keratin. The entire turtle's dorsal surface is colored dark grey to black with a scattering of white blotches and spots. Demonstrating countershading, the turtle's underside is lightly colored.

Instead of teeth, the leatherback turtle has points on the tomium of its upper lip, with backwards spines in its throat to help it swallow food.