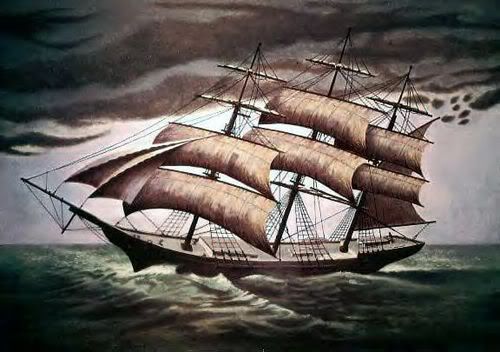 Flying Dutchman
The legend of the Flying Dutchman concerns a ghost ship that can never make port, doomed to sail the oceans forever. It probably originates from 17th century nautical folklore. The oldest extant version dates to the late 18th century.
Sightings in the 19th and 20th centuries report the ship to be glowing with ghostly light. It is said that if hailed by another ship, its crew will try to send messages to land or to people long dead. In ocean lore, the sight of this phantom ship is a portent of doom.
Versions of the story are numerous in nautical folklore and related to medieval legends such as Captain Falkenburg, who was cursed to ply the North Sea until Judgment Day, playing dice with the Devil for his own soul.
According to some sources, the 17th-century Dutch captain Bernard Fokke is the model for the captain of the ghost ship. Fokke was renowned for the speed of his trips from Holland to Java and was suspected of being in league with the Devil. The first version of the legend as a story was printed, in Blackwood's Edinburgh Magazine for May 1821, which puts the scene as the Cape of Good Hope. This story introduces the name Vanderdecken for the captain and the motifs (elaborated by later writers) of letters addressed to people long dead being offered to other ships for delivery, but if accepted will bring misfortune; and the captain having sworn to round the Cape of Good Hope though it should take until the day of judgment.