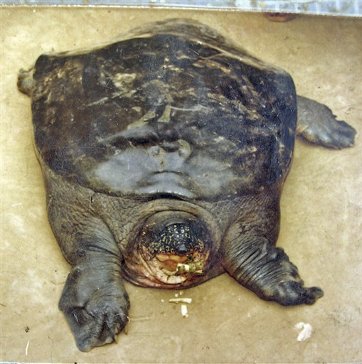 Swinhoe's Softshell Turtle


Rafetus swinhoei, commonly known as the Red river giant softshell turtle, Shanghai softshell turtle, Yangtze giant softshell turtle (Chinese: 斑鱉; Pinyin: Bān Bīe; literally "specked softshell turtle"), or Swinhoe's softshell turtle, is a species of softshell turtle. Rafetus leloii is considered a junior synonym of Rafetus swinhoei, a related and much bigger softshell turtle which lives more than 2000 km further south in Vietnam.
It is listed as critically endangered in the IUCN Red List 2006, and is one of the rarest turtles in the world. There are only four known to survive in Vietnam and China: one each at Hoan Kiem Lake, Hanoi and Dong Anh, Hanoi, Vietnam, an 80-year-old female in Changsha Zoo and a 100-year-old male in Suzhou Zoo.


Rafetus swinhoei have been known to inhabit the Yangtze River and Lake Taihu, situated on the border of Jiangsu and Zhejiang provinces, in eastern China; Gejiu, Yuanyang, Jianshui and Honghe in Yunnan province in southern China; . The last known specimen caught in the wild in China was in 1998 in the Red River between Yuanyang and Jianshui ; that turtle was then released. There are only four known living specimens in Vietnam and China, one each at Hoan Kiem Lake, Hanoi, Dong Anh Hanoi, Vietnam and Suzhou, Changsha Zoos, China.

A specimen at the Beijing Zoo died in 2005, and another one at the Shanghai Zoo died in 2006; both of them were caught at Gejiu in the 1970s.

Coordinated by the Wildlife Conservation Society and the Turtle Survival Alliance, the still reproductive, more than 80-year-old female living in the Changsha Zoo was introduced to the only known male in China, a more than 100-year-old individual living more than 600 miles away at the Suzhou Zoo, on May 5, 2008. The female has arrived safely and settled in well into her new habitat at the Suzhou Zoo, and biologists were optimistic for breeding success.

Rafetus swinhoei is on the brink of extinction due to habitat loss, hunting for subsistence and local consumption, and the use of the carapace and bones in medicine. Skulls are often kept as trophies. A recent plan to build hydropower cascade of 12 dams on the Red River in China may flood all of its habitat and change the ecosystem of lower Vietnam.

In 1999, 2000, and 2005 turtles have reemerged from Hoan Kiem Lake on special occasions, when it was seen by a large audience and caught on film. It is believed that there is only a single turtle left in the lake. In April 2011, it was captured because it had open sores that needed to be treated.